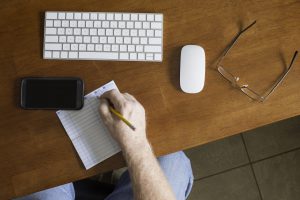 When using a checkbook, it is important to keep it balanced. Balancing a checkbook only requires simple addition and subtraction details. It is done by recording all transactions made to your account, similar to being your own personal bookkeeper. Transactions can be of two types: deposits and withdrawals, which affect your addition and subtraction respectively. Checkbook balancing is done to know how much money is in your bank account account so that decisions related to the account (such as writing a check or making an ATM withdrawal) are made without error.
Checkbook Register
In order to balance your checkbook, you need to write out all transactions; this is done in a register that is given within the checkbook.
Usually, a checkbook register has the following six columns:
Number: In this column, you will record the check number. This acts as a reference to the particular check involved in the recorded transaction.
Date: This column is provided to record the date of the transaction.
Description: This column is used to record details of the transaction such as who the check is written to or perhaps information on withdrawing cash using your debit card at an ATM.
Amount (Debit): You'll need to record the amount of the payment, check, or withdrawal in this column.
Deposit: This column is for recording deposits which may include paychecks, payments from clients or money that may have been transferred from some other account.
Balance: This column denotes the amount of money left in your account after any particular transaction. This starts with the opening balance of your account and is altered by additions related to deposits and deductions related to withdrawals.
Bounced Check – A Big No-No
If the balance in your checking account is low, it is important to be accurate in recording and calculating all of your transactions. Doing so will help you avoid bouncing a check that you sign and submit for payment.
What is a Bounced Check?
If your bank declines to carry out a transaction instructed by a check you issued, the check is termed to bounce (be returned). This happens when the check asks for an amount that is more than the money you have in your account. It is true that if our check bounces, it can be an embarrassing situation. However, it can be costly as well because, whenever a check is bounced, the bank charges you a fee to compensate for a failed clearing process. You can simply avoid this embarrassing and costly situation by bookkeeping in the checkbook register.
Note: There is also another way to avoid a bounced check by opting for a bank overdraft in the case that this service is offered by your bank. Basically this service involves the bank accepting the checks that have a value higher than your account balance. It is recommended to be alert, if you have opted for overdraft, as the bank charges a high-interest rate from the day you exceeded your account balance and an overdraft fee.


Why Balance your Checkbook?
You might be wondering, why go through the hassle of maintaining a checkbook register if you can get an update on your balance at an ATM or online? Well, the reason is that these services will not tell you about your outstanding checks (checks that you've written but haven't been processed by the bank) and, thus, would be giving a number higher or lower than the actual available account balance.
Forgetting to Record Transactions
This is by far the most common mistake made by people when balancing a checkbook. This is because many people make card payments and ATM withdrawals and forget to record them in their register because of time. It is true that an account statement provides such information, but one thing to keep in mind is the possibility of you having to write new checks before that statement comes in. The basic purpose of maintaining this book is to avoid having any one of those checks bounce.
As said before, keeping your checkbook register organized and updated can help you avoid bouncing checks and using overdraft protection because you will know how much money is available for spending in your account. This is especially true for people who have a low account balance at the end of the month as well as people that frequently write checks.
Tip: You can get a cover for your register that comes with a calculator in order to avoid any kind of mathematical errors.
You can compare your register with the account statement you get (when it comes in). This helps in amending your checkbook register to include the transactions that you might've forgotten to record.




About Complete Controller® – America's Bookkeeping Experts Complete Controller is the Nation's Leader in virtual accounting, providing services to businesses and households alike. Utilizing Complete Controller's technology, clients gain access to a cloud-hosted desktop where their entire team and tax accountant may access the QuickBooks file and critical financial documents in an efficient and secure environment. Complete Controller's team of  US based accounting professionals are certified QuickBooksTMProAdvisor's providing bookkeeping and controller services including training, full or partial-service bookkeeping, cash-flow management, budgeting and forecasting, vendor and receivables management, process and controls advisement, and customized reporting. Offering flat rate pricing, Complete Controller is the most cost effective expert accounting solution for business, family office, trusts, and households of any size or complexity.
https://www.completecontroller.com/wp-content/uploads/cclogo_main-long-300x63.png
0
0
Complete Controller
https://www.completecontroller.com/wp-content/uploads/cclogo_main-long-300x63.png
Complete Controller
2018-09-10 11:55:35
2018-09-10 12:50:20
What you Should Know about Balancing a Checkbook