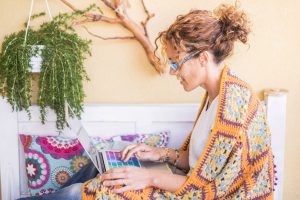 Working from home is becoming more mainstream because it is a good and cost-effective way of earning extra income every month. A home-based business is an excellent option for those who don't want to continue their 9-5 job and want to test their business skills with a low-cost means.
A business needs determination, patience, and perseverance. Using your money wisely and saving money each month can go a long way. Keeping your investments with a bank is not a good choice; instead, invest that money into a low risk with a low return project, initially.
Every business has some risk but starting a small business from home will not be as risky as investing in a major market that you know nothing about. Here are some home based business ideas for kick-starting your business dreams.
Blogging
One of the best home-based business options is to start blogging about a niche topic. Blogs are successful and they are increasing in popularity. Many people have turned their hobbies into major profitable businesses. Blogging takes time to gain momentum while working from home, but the process can be sped up by using google analytics and other paid services for search engine optimization (SEO).
If the blog is successful and you have a large number of readers, the smart idea is to go ahead with Vlogging, the video version of a blog. YouTube and other video sharing websites offer the best opportunity for vlogging. YouTube has a policy to monetize videos once they exceed 10 thousand views. The more ads a channel has, the more money it can generate.
Selling Products Online
Today, social media platforms are bringing people together from around the world. The popularity of these websites has created a very lucrative market for selling items online. Facebook marketplace, eBay, and Amazon are some of the best platforms for selling products. Another useful method to enhance your income from online sales is to drop ship products. That way, you will not need to maintain an inventory. This is one of the best home-based business ideas for beginners.
Registering as an Uber Driver
Uber is a becoming popular for people who are looking for a small business that they can run from their home. With Uber, it's possible to make over $20 per hour. Uber is technically a taxi service that relies on people to register their vehicles with the company. The best option for registering your car with Uber is that it is possible to earn more by giving it more time.
Uber allows you to work on a schedule that suits you, there are no fixed times to follow, and the rules are straightforward. The more you drive, the more you make. The good thing about Uber is that when there is a surge in the service, you can earn almost double than the rate initially meant to be paid. Depending on the time you devote, you can work at Uber as a part-time or full-time home-based business.
Child Care Service
Childcare services are one of the most sought after services for anyone who has the patience and care to handle children. Babysitting or a childcare service is one of the most profitable businesses that you can start from your home with no or very minimal investments, allowing you to have the option of working from home. If you have a large pool of friends, you can tell them to recommend your services as a babysitter for anyone who is looking for one.
Another way to get more clients is to make a small investment in maintaining a social media website. The website will be helpful in assisting you with highlighting your skills and talents as a babysitter. Encourage your regular clients post actual reviews about your services to attract more clients. Positive referrals from your friends and family will be extremely useful in increasing your clientele for a successful home-based business.
Freelance Services
Freelancing is a very profitable and popular way to start your own business. Highlight any skill that you possess and create a social media outlet to display your skills and expertise. A plethora of websites for freelancing are available that can highlight any skill set that you possess. Some of the most popular freelancing websites are:
Fiverr
Toptal
Elance
Up work
Photography, content writing, application development and logo designing are some of the best freelancing options for anyone who is interested and has the talent.
Direct Selling
If you can put aside a small fund and invest it in a direct selling venture online that makes working from home possible, over time it could prosper into a thriving business. Websites that offer direct selling opportunities through their portals provide their services for a small start-up fee.  A few companies offer you similar services without any charges. However, the best option is to choose the websites that request membership or start-up fees; a small payment could be the difference between a safe and risky online portal.
Using these direct selling portals, you can sell services or products that you create. For example, selling candles, bakery items, skin care products, handmade shoes, jewelry, clothing, pillows and other souvenirs. Some of the favorite websites for direct selling are:
Country Scents: candles, melts, and home décor
Nu Skin: health and beauty
Teespring: graphic t-shirts, bags, pillows, and mugs
Fibi & Clo: sandals and homemade shoes
Mayvenn: hair care products
She Anna Bella: homemade jewelry, handbags, and scarves
Linen World: handmade products
Do You Bake?: food for sale items
Kaeser & Blair: offers promotional products

About Complete Controller® – America's Bookkeeping Experts Complete Controller is the Nation's Leader in virtual accounting, providing services to businesses and households alike. Utilizing Complete Controller's technology, clients gain access to a cloud-hosted desktop where their entire team and tax accountant may access the QuickBooks file and critical financial documents in an efficient and secure environment. Complete Controller's team of  US based accounting professionals are certified QuickBooksTMProAdvisor's providing bookkeeping and controller services including training, full or partial-service bookkeeping, cash-flow management, budgeting and forecasting, vendor and receivables management, process and controls advisement, and customized reporting. Offering flat rate pricing, Complete Controller is the most cost effective expert accounting solution for business, family office, trusts, and households of any size or complexity.