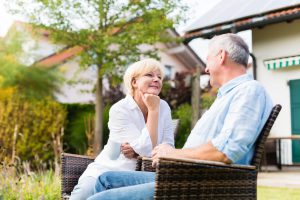 Retiring without a mortgage is an American dream. Most Americans dream of retiring without carrying a heavy burden. The kind of stability needed to earn cash to keep up with mortgage payments doesn't appear after retirement, unless you continue working. The home is a reliable asset that is termed as the retiree's nest of eggs they own and, also, is a depiction of financial solidity. For many, a family's financial strength is portrayed by the ownership of properties and owning a house.
However, it's easier said than done and that's why you're here. There are many ways to retire without a mortgage. Some are easy, others are not. We would like to stick with the ones that aren't as technical as setting up savings accounts or using high tech gadgetry to monitor business prospects, no! None of that! Here, we are going to talk about a few ways that could easily help soon-to-be-retired professionals who have mortgage issues relieve themselves of dire stress.
One great way is the obvious, to retire after paying off your mortgage. This could be a lengthy process but considering paying your mortgage ahead of time would significantly allow you to enjoy your retired life with ease. To retire without a mortgage, a certain tenacity is required in order to reap the benefits after blissful retirement. This option may help you, depending on your professional choice of career.
Early Settlement
If you have the financial capacity, an early settlement of all mortgage payments helps immensely after retirement. It can help free up cash that can be used in more places than one. The notion of having plentiful cash at your disposal is a highly attractive one. So, where possible, make it a point to pay earlier than anticipated or scheduled. By saving interest, you reduce your payments by thousands of dollars. To retire without a mortgage, the interest part of the hefty payments is burdening as most of the cash that you hand in has a certain percentage deducted. At the end of the day, your actual payment isn't building up as you expect. This deducted amount, when accumulated, saves thousands and this may be a viable option for those who wish to save money straight away. By paying off other heavily pressurizing payments, relief can be found and the money can be used someplace else, where applicable. Maybe even consider creating a retirement fund that will help with vacations or holidays in the golden years!
If That Doesn't Work
If it doesn't pan out for you to retire without a mortgage for some reason, there are other ways to compensate for this drawback. We do realize that this neat little trick won't work all the time, so it's good to have some ideas to rely on if everything goes south. If you're in a stable financial condition or money isn't an issue at this moment, it is highly recommended to save enough for an emergency fund. This is a vital but seldom implemented idea for all homeowners. Keeping a savings fund that is equivalent to at least four or five mortgage payments is an ideal way not to get stressed out after retirement. Getting some financial advisory won't hurt either. In fact, it may even streamline your expenses to help you retire euphorically. Paying off high-interest payments will also enable more to be done with your income. Eradicating and finishing off a credit card or loan debt is strongly recommended. All of the cash can be contributed towards retirement, if needed. Create a plan, make efforts to fund this plan each month and work on it. Make it a priority to save as much according to your plan as possible. In the pursuit to retire without a mortgage, at the end of the day, this plan will be your knight in shining armor. This sort of financial investment works on many levels and we insist on trying this method.
Other Things You Can Do
Keep in mind that there are always options. There is never a dead end and, if you are still confused, here are some other ways that help with reducing mental stress after retirement.
Short-Term Loans: 
Although not advised unless necessary, taking out loans would help contribute immediately but also cause you to incur extra payments each month.
Smaller Housing For Reduced Costs:
By moving into a smaller place, not only will your mortgage bill be less, but maintenance costs lessen as well. Utilities will also fall dramatically enabling you to save more.




About Complete Controller® – America's Bookkeeping Experts Complete Controller is the Nation's Leader in virtual accounting, providing services to businesses and households alike. Utilizing Complete Controller's technology, clients gain access to a cloud-hosted desktop where their entire team and tax accountant may access the QuickBooks file and critical financial documents in an efficient and secure environment. Complete Controller's team of  US based accounting professionals are certified QuickBooksTMProAdvisor's providing bookkeeping and controller services including training, full or partial-service bookkeeping, cash-flow management, budgeting and forecasting, vendor and receivables management, process and controls advisement, and customized reporting. Offering flat rate pricing, Complete Controller is the most cost effective expert accounting solution for business, family office, trusts, and households of any size or complexity.