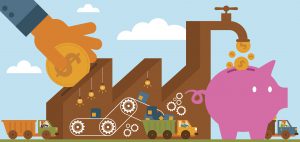 Most small business owners come up short on cash flow despite the fact that their businesses are gaining revenue. Cash flow is the net amount of cash and cash-equivalents moving into and out of a business.
The simplest and quickest way to sort out cash flow problems and improve cash flow in your business is to collect receivable income as soon as possible and slow your payments down wither your suppliers without burning bridges. But, this formula cannot be applied for long and without proper planning. 

Plan and implement policies to improve cash flow in the company.  Here are five ways to improve your cash flow:
1. Bookkeeping
Keep an eye on your Budget.
Keep a strict check and balance on the expenses going on in the business. Do not sign any reimbursement application before double checking the purpose, date, and invoice number.
Avoid frauds.
Cut down on unnecessary expenses.
Manage business operations more effectively.
Decrease Expenses in the Business.
Eradicate unnecessary expenses in your business. If your advertising is costing you too much, then utilize social media and directly interact with your potential customers on those outlets.
Try not to borrow money for a rapid growth in business.
Do not mix your personal expenses with the business expense.
2.  Delayed Customer Payments and Discounts
Many customers delay their payments. In small business, if you are running short on income, quickly generate invoices and send them to customers immediately. This will minimize the delayed payments by the customers to some extent.
Offer offering your customers some discounts if the payment is made within a given time frame before the deadline. Always encourage your clients to pay quickly.
Keep a check on discounts being given to the customers. Reducing prices often negatively affects the net profit ratio and revenue in your company.
3.  Overstaffing
Business owners have to manage a lot of business operations. Especially, at the start of business, many small business owners hire more staff than is actually required. Overstaffing has a negative effect on small business income and growth.
If your business wins a project and you need more staff to accomplish the task before the deadline, you have to increase the payroll of your company. A temporary project also increases the expenses in a company. This is a common scenario in construction companies, landscapers, and designers. Construction businesses often outsource their employees depending upon the complexity of projects. This process is predictable and calculable. Prepare in advance and plan out the finances and other issues. You can set money aside for the last season in business or borrow money for the project funding until the next season yields revenue.
You can manage your employees by re-arranging shifts or paying overtime until the project is finished.
This management is a way to improve your cash flow
4.  Clear Debts and Liabilities Early On
List all of your debts and other liabilities that your company has to pay.
Make a priority list.
Keep monthly savings in another account for the payment of debt if taken or for making other on-time payments by your company.
Keep the money for monthly payment of the debt. Do not use this money for any other purchase. Otherwise, the debt with interest will keep piling up.
Sacrifice the fast track for slow growth or you will have to take debt for your small business.
Managing your liabilities and paying them on time will also improve your cash flow.
5.  Section Your Customers, Suppliers, and Inventory
Focus on your inventory. "Was the purchase made necessary, is the stock not 'too much'?"
Manage your inventory. Do not purchase extra stock.
Focus on your suppliers. Who supplies you on time and on better terms and conditions?
Focus on key customers that give your business a big margin in profit and generate great revenue.
Conclusion
Cash flow problems are very common for small sized businesses. Business owners should know the ways to improve cash flow in a company. Managing expenses, keeping an eye on accounting and bookkeeping, on time payments and receiving payments on time, and clearing out debts are ways to improve cash flow in a company.