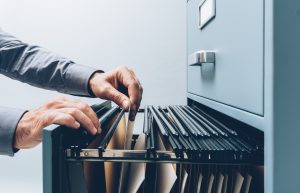 It's a common practice among accounting and bookkeeping departments to have multiple filing cabinets, including locked ones, to protect payroll and other private information. Access to financial files and data should be limited to certain key people in the company. To protect the information, it is critical to implement a file system in your accounting department; however, it can turn out to be a tricky task if not done correctly.
What causes a file system to collapse? It is highly likely that it was not much of a system to begin with. Chances are that you had assorted the files randomly without giving it much consideration at the beginning. Simply placing a label on your files will not turn it into an effective system. To implement a file system that can billet any type of paper, whether its at home or in the office, all you need are various colors of 2/5 cut tab colored folders and box bottom hanging folders.
Categorize the Files
The first thing that you need to do is sort the files into categories. Sort through your current pile of paperwork and arrange everything related to finances in one category, fixed assets into another, and so on. The focus at the moment is not on the detail, rather on assorting documents of similar nature together. Later, we will worry about sub-categorizing them. Credit card bills and bank statements all fall under finances in this step and will be separated in the next step.
Create Subcategories
Once you have arranged the documents according to their respective categories, it's now time to subdivide them so that you exactly know where to search when looking for the respective information. Finances for an accounting department can be sub categorized into checking accounts, saving accounts, and credit card accounts. Be specific about your subcategories and don't just use random words for labeling them. This kind of arrangement will help you clearly identify what you want to look into.
Color Coding
The major categories for all of the documents should be assigned different colors that will differentiate them from the rest. Put the files in hanging file folders together with their respective categories. If you have selected a green color for your accounting documents, the subcategories can be in other shades of green. While filing your retrieving papers, this will save you a huge amount of time. Your brain is better able to sort stuff out when things are highlighted by different colors. Implement the file system in your office which allows you to work effectively through each category without wasting time with mixed up information.
Make Labels
After coloring is done for each file, it is now time to label them. Advance from general to specific categories. For your accounting office, the general label can be credit cards while specific labels can be Visa, Master Card, etc. After labeling the files, try to arrange them alphabetically so that you can quickly move to your desired paperwork. The point is to arrange similar files together in close proximity.
Expenses should be filed distinctly from payroll and other accounting aspects. If certain transactions belong to more than one area, such as expenses and fixed assets, make copies of the paperwork and put the documentation in both files after labeling them. Implement a file system that categories expenses by vendors' names and in alphabetical order. Fixed assets can be categorized by purchase dates.
Filling your Drawers
This will be the last step of your filing process. By now, you have almost sorted most of your accounting documents. All you need to do is put them in a place where you can easily access and identify them. Put everything in a drawer in alphabetical order and place the colored files in hanging box bottom folders to ensure that they stay upright within the drawer. The 2/5 cut tabs are places above the hanging files so that it is easy to decipher each category.
If you successfully implement the file system mentioned above, your accounting business will receive a major boost.




About Complete Controller® – America's Bookkeeping Experts Complete Controller is the Nation's Leader in virtual accounting, providing services to businesses and households alike. Utilizing Complete Controller's technology, clients gain access to a cloud-hosted desktop where their entire team and tax accountant may access the QuickBooks file and critical financial documents in an efficient and secure environment. Complete Controller's team of  US based accounting professionals are certified QuickBooksTMProAdvisor's providing bookkeeping and controller services including training, full or partial-service bookkeeping, cash-flow management, budgeting and forecasting, vendor and receivables management, process and controls advisement, and customized reporting. Offering flat rate pricing, Complete Controller is the most cost effective expert accounting solution for business, family office, trusts, and households of any size or complexity.