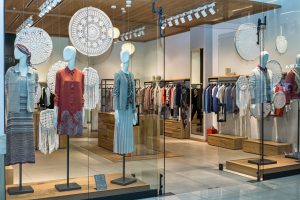 In simplest terms, a retail store is a place of business where goods are displayed and sold directly to individual customers. Some retail stores are company operated, which means they are owned and operated by manufacturers, and others are operated by retailers under a brand name.
Retail Store Interiors
Commonly known as 'Retail Design', retail store interiors predominantly means the interior design, art, and architecture of any retail store. This specialized practice also incorporates elements of ergonomics, interior/exterior decoration, design, theme/layout, industrial design, and advertising. Hence, it talks about the entire servicescape of a retail outlet—from the time you make an entry until your exit.
In Light of the Changing Retail Dynamics
What motivates or pull you into any retail store? Brand name? Brand loyalty? Retail exterior or an intriguing shop front? Or, simply promotional offers or large discounts? Well, that depends on person to person, as everybody has their own motivations, inspirations or, most importantly, impulse that drives them towards a brand or retail store. Retail store interiors play a significantly important role in driving sales, increasing sales volume and encouraging people to purchase your products.
With ever-evolving design patterns and dynamics, it has become extremely difficult to suggest one single interior design structure or layout that would do justice to all brands in a specific retail industry. Every retail business has its own design culture that reflects its core values and strategic objectives. However, developing or establishing a powerful culture is no easy feat as it requires a lot of industry knowledge, dedication, commitment, time, and energy that make things work for your retail business. First, you need to define your target audience and understand their purchasing patterns before you can create an awe-inspiring retail store interior.
Increasing Sales Volume
Most customers will only purchase your products if they feel something good about your retail store. For driving sales and increasing the store's foot traffic, you need to create a high-level impact on your potential customers which can be done by many different ways and means. As it is said, 'an exceptional store experience drives instant sales.' This suggests that the unique yet effective store interior encourages impulse buying which ultimately increases sales volume. Brands around the globe are putting a lot of time and effort in creating a store ambiance that will be loved by their potential customers and privileged clients.
Designing a retail interior is a continuous process, where you can always switch up, tweak, add, and customize your interior to empower a client's brief journey into your store. This will not only encourage your customers, especially first-timers, to purchase your products but also helps you set new standards in the interior design industry. In short, a better overall experience will allow things to go in your favor.
Large Window Displays with Powerful CTAs
A customer's first few impressions play an indispensable role, especially in big malls or retail junctions. However, luring customers with premeditated intentions is never easy. Interiors designers, most of the time, take advantage of large window displays and create an powerful impression which encourages or triggers a subconscious choice to enter your retail store and purchase your products.
The Threshold
The decomposition zone, which is also known as the threshold, is basically the entrance area of a store where you initially come in to look around. This is a point where a customer is exposed to a retail store's interiors and where they experience the culture of the store. Moreover, critical judgments and quick decisions are usually made here, giving you the freedom to go anywhere in the shop. Interior designers love to capitalize on this area of retail stores with strong lighting, fixtures, and displays for enticing customers and encouraging them to purchase your products.
Move Customer, Off To the Right
Studies have revealed that nearly 85% of people subconsciously move to the right of the retail store first, especially when they enter a new store. This signifies that the products that are displayed in the right section of the store will probably have higher sales than the left. This is why marketing experts recommend that business entrepreneurs display their weak, inactive, low moving or low-interest products to the right section of their store because they have the higher probability to be sold here. Since the ultimate purpose is to make potential customers purchase your products, you may slightly reposition them when the need is there.
Have Them Walk Around
Your product positioning strategy has to be incredible because when it comes to the overall store experience, you have a very small margin for error. Entice your first-time visitors and potential customers to walk around the store because, if you are successful in doing so, there is a possibility that they may find something for themselves or others. You can also define your own pathways and help customers move or walk around. This can be done through strong and effective lighting effects and promotional offers/discounts.  
Slow Them Down
By strategically placing the proper product at the right eye level can help customers purchase your products, even if they never entered the store with any intention of buying anything. Everything that is involved in retails store interiors has to be placed and positioned brilliantly in order to attract customers for increasing sales volume. However, slowing them down doesn't mean you have to place things in their way. It is about creating distractions, perhaps via sales, discounts, or promotional offers.
Make Them Feel Comfortable
A perfect ambiance can lead to greater outcomes! You need to make your customers feel comfortable with maintained room temperature, patent fragrances, or soft music. Your retail store interiors have to be carefully selected and smartly shopped within the budget as making an optimal use of resources is necessary for a retail business.
Summary
We live in a brand-sensitive era! For meeting societal standards, people have become so much more conscious about brands and what exclusivity they are offering to them. A retails store's interiors can surely make things work for you and can certainly entice and encourage your customers to buy your products.




About Complete Controller® – America's Bookkeeping Experts Complete Controller is the Nation's Leader in virtual accounting, providing services to businesses and households alike. Utilizing Complete Controller's technology, clients gain access to a cloud-hosted desktop where their entire team and tax accountant may access the QuickBooks file and critical financial documents in an efficient and secure environment. Complete Controller's team of  US based accounting professionals are certified QuickBooksTMProAdvisor's providing bookkeeping and controller services including training, full or partial-service bookkeeping, cash-flow management, budgeting and forecasting, vendor and receivables management, process and controls advisement, and customized reporting. Offering flat rate pricing, Complete Controller is the most cost effective expert accounting solution for business, family office, trusts, and households of any size or complexity.
https://www.completecontroller.com/wp-content/uploads/cclogo_main-long-300x63.png
0
0
Complete Controller
https://www.completecontroller.com/wp-content/uploads/cclogo_main-long-300x63.png
Complete Controller
2020-04-23 11:58:39
2020-04-25 09:31:36
How to Create Retail Store Interiors That Get People to Purchase Your Products