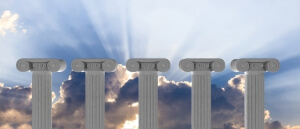 What is an excellent company? What are the features that identify business excellence? Whether we want to achieve this degree of excellence or identify large companies to work with, what are the values ​​we have to take into account?
Axesor marketing intelligence believes that there are at least five factors that we can take into account when assessing the type of companies with which we do business with. We will discuss the five pillars of excellence below.
Financial Management
Good financial management raises companies high above their competitors.  This includes account profitability, risk, and stability beyond the short term.
By comparing the structure and evolution of a company's income statements, in addition to other key indicators, excellent companies can be determined and compared with others based on their commercial segment and sector.
Thus, the most healthy, stable, and with less risk of default societies are identified. These are truly attractive entities when proposing new commercial agreements.
Management of Human Resources
Over time, the staff of a company becomes one of its defining features. Therefore, in order to locate an excellent company in its management and organization of human resources, it is essential that it has an efficient composition of employees.
The distribution of the number of employees in different departments and the volume of expenses that it presents are some of the key factors in this regard.
Innovation Capacity
The innovative capacity of companies is also a pillar of excellence because they can face new challenges efficiently and identify new possibilities to increase their business.
In order to locate the companies with the highest degree of quality in the field of innovation, it is important to properly assess their investment in R & D & I and new technologies to weight this absolute data as well as the productivity ratios resulting from these investments in comparison with those of the competition.
Degree of Leadership
Larger companies are not always the most profitable in terms of business since a company with a large volume of profits does not ensure excellent management.
However, the position of a company in the market itself can possibly determine to what extent we are interested in them becoming a client.
To establish this degree of leadership, we must take into account the results, both in turnover and market share, which allow us to segment the entities depending on their level of activity within their geographical and sectoral scope.
Import & Export Capacity
Finally, finding stable companies means locating those that diversify their activity in different geographical areas and are not very dependent on specific local situations.
The capacity of an entity to carry out imports and/or exports depends on factors such as financial results, physical location of the company, or the business to which it is dedicated to.
These and other indicators allow you to calculate both the health of your foreign commercial activity, if any, and the possibilities of carrying out quality business in the future.




About Complete Controller® – America's Bookkeeping Experts Complete Controller is the Nation's Leader in virtual accounting, providing services to businesses and households alike. Utilizing Complete Controller's technology, clients gain access to a cloud-hosted desktop where their entire team and tax accountant may access the QuickBooks file and critical financial documents in an efficient and secure environment. Complete Controller's team of  US based accounting professionals are certified QuickBooks™️ ProAdvisor's providing bookkeeping and controller services including training, full or partial-service bookkeeping, cash-flow management, budgeting and forecasting, vendor and receivables management, process and controls advisement, and customized reporting. Offering flat rate pricing, Complete Controller is the most cost effective expert accounting solution for business, family office, trusts, and households of any size or complexity.