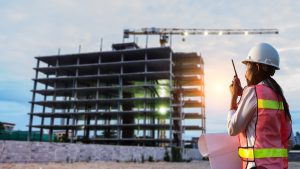 The construction industry plays a pivotal role in the growth and development of a sustainable economic environment. Unfortunately, there are certain factors which can hinder construction growth. Financial constraints are one of the major factors behind the stagnation in construction growth. Several studies have revealed a direct relationship between economic growth and the provision of funds for construction growth. In other words, the connection between economic growth and growth of the construction industry is directly proportional –if one increases, the other will grow as well.
Construction Growth –What Does it Entail and Why is it So Important?
The term "construction growth" pertains to the pace at which the construction industry of a society flourishes. A plethora of housing projects and the development of infrastructure ensures the growth of the construction sector. It helps create jobs for thousands, even millions of people. According to official statistics, over 10 million people were employed in the construction sector in the United States alone.
According to experts, almost $8 billion was paid to people working in the construction industry in the form of wages and salaries in 2016. These numbers reflect how significant the growth of the construction industry is, as it contributes significantly to the economy and provides livelihood to thousands of households. In order to ensure continued growth of the economy, the construction industry needs to grow as well. But, unfortunately, due to financial constraints, this growth has stagnated.
Financial Constraints –How do they Slow Down Construction Growth?
Financial limitations can have an extremely adverse impact on the growth of the construction sector. An increase in tax rates, stricter government policies, and lack of trust in the local industry are some of the financial constraints that can potentially hamper the pace and growth of the construction industry. Without financial stability and freedom, investors and stakeholders in the construction industry are forced to diminish their expansion plans to ensure sustainability.
In order to nurture a prosperous economic environment, it is imperative that the interests of all stakeholders involved are taken into account. Often times, the lack of demand for new housing leads to stagnation in construction growth. The lack of demand does not stem from the dearth of need, but rather from financial constrictions. When people lose the ability to afford to purchase housing units, developers are forced to delay or slow down their future or on-going projects.
Bookkeepers keep track of financial transactions made by organizations and developers over time; their records can be used to notice trends and ascertain factors which directly impact construction growth. Bookkeeping experts, themselves, help stakeholders identify patterns, allowing them to identify factors which affect the growth of the industry both positively and negatively. 
Even without analyzing the records, it is quite obvious that financial constriction means bad news for any industry. But, relatively, the impact of financial constraints is quite significant in the construction industry as it slows down the entire process. Slowing down does not only waste time but also increases the costs, as prices of construction materials continue to increase.
Hampered by financial constraints, slow construction growth can lead to an overall economic crisis. The construction industry is considered to be the backbone of a nation's economy as it involves the development of infrastructures such as roads, airports, hospitals, homes, and factories. Anything that hinders construction growth can cause a crisis such as the dearth of housing for an increasing population.
Therefore, it is imperative for regulatory bodies to ensure that there are no unnecessary financial constraints such as lack of funding or high tax rates. Financial constraints are extremely counterproductive as they have a direct and immensely negative impact on construction growth. The correlation between the economic performance of a country and construction is quite obvious which makes it even more important to ensure nothing hinders or slows down construction growth. An exponential growth in the construction industry is integral to the development of a sustainable economy.




About Complete Controller® – America's Bookkeeping Experts Complete Controller is the Nation's Leader in virtual accounting, providing services to businesses and households alike. Utilizing Complete Controller's technology, clients gain access to a cloud-hosted desktop where their entire team and tax accountant may access the QuickBooks file and critical financial documents in an efficient and secure environment. Complete Controller's team of  US based accounting professionals are certified QuickBooksTMProAdvisor's providing bookkeeping and controller services including training, full or partial-service bookkeeping, cash-flow management, budgeting and forecasting, vendor and receivables management, process and controls advisement, and customized reporting. Offering flat rate pricing, Complete Controller is the most cost effective expert accounting solution for business, family office, trusts, and households of any size or complexity.