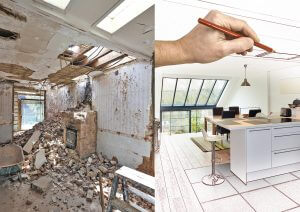 Fix and flip in real estate is the process in which investors buy an abandoned or existing residential property and sell it after renovating it, either for residential or other purposes, like a construction site or a retail shop.
Investors usually have the financial funding to purchase and renovate properties. Even if you do not, you can easily become a fix and flip investor by opting for a loan. Other areas that need to be thoroughly researched for maximum success in this business are:
1. The location of the place that you want to buy
2. The tax rates that are implemented in the state that you reside in
3. The laws of the state regarding the buying and selling of properties.
Here are some things that you also need to consider when fixing and flipping a property i.e. buying, renovating, and selling a residential plot or a barren land for business purposes:
1. Make sure that the property you buy or look forward to buying is legal
2. Always keep a keen check on all of your finances and bookkeeping records
3. Check the market for residential projects that are somewhat like the property you look forward to investing in
4. When renovating, look at the things that a customer is interested in when flipping a property
Types of fix and Flip Loans
Fix and Flip Loans related to Hard Money
Hard money loans are short-term loans that are secured by real estate agents and used by fix and flip investors who purchase the property and renovate it. Hard money loans are ideal for investors as they finance properties that are in a poor condition.
The qualifications for getting a hard money loan are lower. The investors receive the funds and the permission to start their work within a period of 15 days. It is famous among both the beginner and experienced flippers because hard money lenders care about the potential value of the household or property rather than the background of the borrower.
Summary
1. Available Financing: 90% of the value of the loan
  80% of the value after repair
2. Loan Term: 1 to 3 years
3. Approval time and funding: 24 hours for approving and around 10-15 days for receiving the funds
4. Interest Rates: Vary starting from 7% to 12%
5. Fees: Lender fees vary from 1.5% to 10 % whereas the closing costs are 2% to 5%  
Fix and Flip Refinance related to Cash Out
This is a strategy where an investor finances a property that already exists in order to finance a purchase of new property. This method helps in extracting equity from the already existing property by the issuance of a loan and paying the existing mortgage.
Before attracting any equity, the existing liens (for example, the original amount of mortgage) have to be paid.  Fix and flip investors can finance other investments from the difference between the amounts of the previous mortgage between the values of the new loan.  
There is no limit on how an investor will spend the cash that is received by the cash out finance. Fix and flip investors can utilize their cash out refinances even on the households that are occupied by an owner. 
Summary
1. Available financing: Up to 75% of the value of the property
2. Loan Term: From 15 to 30 Years
3. Time required for approval and funding: From 30 to 45 days
4. Interest rates: Vary from 2.99% to 5%
5. Fees: Lenders fee vary from 0 to 3% and closing costs vary from 2% to 5%
Home Equity in the Line of Credit
This loan works like a credit card. Investors issue an extended use of credit that is based on the value of their existing home and use that same credit for the home line of equity. Interest rates charge an amount that is borrowed until the amount is repaid.
A home equity line of credit can be taken alongside an existing mortgage but only on properties occupied by the owner. Although the investor has no restrictions on how they spend the loans, it cannot be taken for an investment residence but for primary residential sites.
Summary
1. 
Available financing: Up to 85% with the combination of Loan to Value (CLTV)
2. Loan Term: From 25 to 30 years
3. Time for approval and funding: Usually takes 30 to 45 minutes
4. Interest Rates: They vary from 4% to 5%
5. Fees Required: From 0% to only 2% of the lender's fee




About Complete Controller® – America's Bookkeeping Experts Complete Controller is the Nation's Leader in virtual accounting, providing services to businesses and households alike. Utilizing Complete Controller's technology, clients gain access to a cloud-hosted desktop where their entire team and tax accountant may access the QuickBooks file and critical financial documents in an efficient and secure environment. Complete Controller's team of  US based accounting professionals are certified QuickBooksTMProAdvisor's providing bookkeeping and controller services including training, full or partial-service bookkeeping, cash-flow management, budgeting and forecasting, vendor and receivables management, process and controls advisement, and customized reporting. Offering flat rate pricing, Complete Controller is the most cost effective expert accounting solution for business, family office, trusts, and households of any size or complexity.