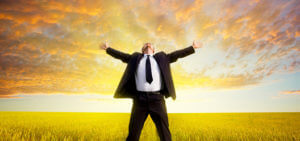 Easier said than done, right? Many people get stuck on the 'what you love' part. They simply don't know. Let's start with the simple fact that you probably need to generate an income since you will be spending a great deal of time doing what you love. It's easy to say, "I love making money" or "I love being financially secure". Now challenge yourself to fill in the blank with something you love: "I wish I could make money while _____________________." What is it for you? Eating food? Gardening? Making artwork? Listening to music? Playing video games? Reading? Playing with kids? Solving puzzles? Helping people? Flying? Building stuff? It is incredible how powerful and creative our thoughts can be. Once you have manifested the idea of making money by doing what you love, you will spark an awareness of opportunities to follow your dream. You will see yourself becoming curious about how the dream may come to life and you might find yourself doing research, gathering opinions and ideas from friends and associates, and generally developing your dream further. Next thing you know, a problem or need will arise which you can solve – by doing what you love. Anytime you solve a problem or fulfill a need, you bring value. With the right planning and execution, value translates to money. For me, I found during the course of my life that I was particularly good at small business stuff. I like creating businesses, learning about them, structuring them to endure, and helping others to do the same. I found that for me the really fun part was the financial planning and analysis. It was exciting to forecast future earnings, budget expenses, and create a model that was self-supporting and strong. I loved it! Fortunately for me, there are many, many people who do not like financial management – the whole idea of balancing a checkbook or reviewing a financial statement makes their eyes glaze over. So I can help others (solve a problem and fulfill a need) by doing what I love. If you are doing what you love, you will be happy and your creative juices will flow which fuels your passion and makes you even more valuable. Do what you love – success is imminent.
About Complete Controller® – America's Bookkeeping Experts
Complete Controller is the Nation's Leader in virtual accounting, providing services to businesses and households alike. Utilizing Complete Controller's technology, clients gain access to a cloud-hosted desktop where their entire team and tax accountant may access the QuickBooks file and critical financial documents in an efficient and secure environment. Complete Controller's team of  US based accounting professionals are certified QuickBooks
TM
ProAdvisor's providing bookkeeping and controller services including training, full or partial-service bookkeeping, cash-flow management, budgeting and forecasting, vendor and receivables management, process and controls advisement, and customized reporting. Offering flat rate pricing, Complete Controller is the most cost effective expert accounting solution for business, family office, trusts, and households of any size or complexity.