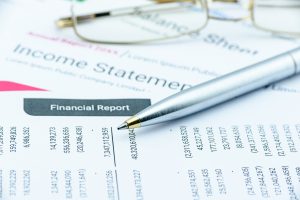 A statement giving a clear picture of the net worth of a business is known as a balance sheet. A balance sheet is a financial tool for all businesses to list their assets, liabilities and their owner's equity to calculate the actual worth of the business. Creating a financial statement is a standard practice for all businesses. These statements are later audited by governing agencies for taxes and other purposes. The commonly used financial statements of a business include the following.
Income statement:

An income sheet covers the revenues from sales, cost of goods sold, expenses, net income, taxes and earning per share. It is created annually, half-yearly or quarterly.

Balance sheet:

A balance sheet displays a snapshot of the net worth of the business. It is mostly drawn at the year-end and the date is specified on the balance sheet.

Cash flow statement:

A cash flow statement merges both of the above statements to display the utilization of the cash in three main business activities including:

Operating activities
Financial activities
Investing activities
What is a Balance sheet?
A balance sheet is a financial statement which consists of the balances of multiple different ledger accounts. This bookkeeping method helps in listing the ledger balances in the below-mentioned categories so that a company is able to get an idea of their financial position. These categories are:
Assets:

Assets are all properties/belongings/things owned by the business. They can include the properties, cash, machinery and even prepaid expenses.

Liabilities:

Liabilities of a business include all of the expected dues which the business is supposed to clear in coming days or years. They include long-term loans, short-term loans and an accrued account of the business.

Owner's equity:

Owner's equity is the capital of the owner who invested in the business. It includes the retained earnings and finances generated from issuing stocks and debentures.
Therefore, a balance sheet can be easily defined as "A statement which consists of assets, liabilities and owner's equity (capital) on a particular date". The balance sheet got its name as the closing balance is balanced at the year-end.
Components of a Balance Sheet


Types of assets

Real assets

Fixed assets

Tangible assets

Building
Plant
Fixture and fittings
Furniture
Machinery and vehicles

Intangible assets

Goodwill
Patent rights
Trademarks

Current assets

Quick assets

Stock debtor
Cash
Cash at bank

Floating assets: which keep on converting from one form to another such as:

On sale of goods, the inventory is changed into debtors
On purchase of goods, cash is converted into inventories

Fictitious assets

Preliminary expenses
Loss on issue of shares

Types of liabilities

Fixed liabilities

Debentures
Long-term loans

Current liabilities

Deferred liabilities: Payback period is less than a year and more than a month

Short term loans

Quick liabilities: Payback period is within a month

Bank overdraft
Outstanding expenses
Creditors

Equity or internal liabilities

Reserves
Owner's equity
Shares capital
Retained earnings
Features of a Balance Sheet


The balance sheet is the final stage of the financial accounts in bookkeeping records.
It is mostly prepared at the year-end.
It is just a statement, not a ledger account.
The balance sheet has two sides which show the assets on the left side and liabilities on the right side.
Both the right and left sides of a balance sheet should always balance.
The balance sheet only reflects the balances of the asset accounts and liability accounts. They do not reflect revenue accounts.
The balance sheet also reflects the business's solvency.
The balance sheet is designed after the income statement as it requires the net profit or net loss in the equity section.
Why is a Balance Sheet Important?
There are plenty of benefits to creating a balance sheet for your business. However, for smaller businesses, the balance sheet is not an essential requirement as they are not opting for listing their businesses for stocks either they are paying huge taxes. Regardless, a balance sheet can be very helpful in reflecting the complete hearth of your business.
It acts as a snapshot of the business' financial health on a specific date
Helps you in expanding your business
Can help you get financial aid through investors or loans as your business performance and current health is already documented
Prioritizes your work, showing you all of your liabilities that need your immediate attention
You can even generate financial ratios very easily if you have a properly detailed balance sheet documented

About Complete Controller® – America's Bookkeeping Experts Complete Controller is the Nation's Leader in virtual accounting, providing services to businesses and households alike. Utilizing Complete Controller's technology, clients gain access to a cloud-hosted desktop where their entire team and tax accountant may access the QuickBooks file and critical financial documents in an efficient and secure environment. Complete Controller's team of  US based accounting professionals are certified QuickBooksTMProAdvisor's providing bookkeeping and controller services including training, full or partial-service bookkeeping, cash-flow management, budgeting and forecasting, vendor and receivables management, process and controls advisement, and customized reporting. Offering flat rate pricing, Complete Controller is the most cost effective expert accounting solution for business, family office, trusts, and households of any size or complexity.
https://www.completecontroller.com/wp-content/uploads/cclogo_main-long-300x63.png
0
0
Complete Controller
https://www.completecontroller.com/wp-content/uploads/cclogo_main-long-300x63.png
Complete Controller
2020-04-04 21:38:10
2020-04-04 07:01:52
Balance Sheet - Definition and Explanation