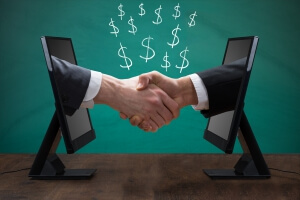 Every year, thousands of college students graduate from college and the majority of those begin the job hunt. It is time to enter the work force.
A graduate begins their job search believing they will get a certain salary right away. In reality, this is often not the case. In fact, it is an unrealistic expectation, as only a few are offered their ideal salary. In the majority of cases, a candidate asks for what they are expecting and the employer is not able to match their request.
At some point in the interview process, salary negotiations begin. This is a critical part of any interview and can be quite nerve wracking. If handled well, there are possibilities of increasing the number that the employer starts with in the negotiation process. The following tips can help interviewees have the upper hand when negotiating a higher salary during an interview.
1. Provide Proof
Demanding a higher salary without quality merits is not a wise approach. Before going into an interview, it is best to write down all unique qualities and achievements that you bring to the table. Discussing these will provide proof to an employer that there is worth and potential in a candidate.
When asking for a raise at your current job, it is best to highlight the times you have performed phenomenally well. Without significant changes and improvement in the standard of your performance, asking for a raise is not justified. The key is to provide proof of your achievements and highlight your exceptional performance. Let them know what you do for their business to help it excel. 
2. Avoid Sharing Your Current Salary
Inquiring about your current salary is a common question in an interview. Many people do not understand that it is part of the salary negotiation. It is most definitely a part of the salary discussion. Current and expected salaries are used by an employer to quote a number that is close. It can be a disadvantage to reveal your current salary, as an employer may be planning to offer much higher if they do not know. 
Delaying salary negotiations until the candidate has time to make an impact on the employer is beneficial. Also, through salary negotiations, the employer gets an idea of what the candidate has in mind.
3. Consider Benefits
When interviewing, don't neglect the conversation regarding your benefits. There are cases when an employer is set on a certain salary and they are unwilling to negotiate. When stuck in that situation, a creative approach is to bring up the benefit negotiation. If an employer is not matching the number you have in mind for your salary, you could also negotiate benefits such as insurance or number of vacation days. Although higher benefits may not increase the actual number of your salary, they could make it worth your consideration.
4. Do Not Apologize
The "sorry" attitude does no good during a salary negotiation. By revealing this nature, an employer knows that the candidate can be convinced to back down. Therefore, when negotiating for a high salary, do not apologize for asking. Often, candidates want to avoid "rocking the boat", so they ask for a raise or a higher salary in an apologetic manner. This shows doubt and may put one in a difficult position.
Sure, negotiating can be uncomfortable, but it is not a fight. It is an individual's right to speak up about their needs. Do not apologize for coming forward if you feel you deserve more.
5. Do Not Discuss Your Financial Situation
Another common mistake that candidates make when negotiating a higher salary is mentioning their personal financial situation. Many might believe that discussing their financial hardships might melt an employer's heart, but that's not usually what happens. This discussion has the potential to ruin a salary negotiation completely. Instead of financial hardships being the reason for a raise, it is better to provide proof of your hard work and value. Discussing your financial struggles will only open the door to pity and empathy, but unfortunately not to higher pay.

Incorporating these tips into your negotiations for a higher salary will provide you an edge and confidence. It is one's right to demand pay, given that the merits provide proof of hard work and high value. Know your worth before going into an interview.  Adopt a positive attitude, have confidence, and make the interviewer feel that they need you! 





About Complete Controller® – America's Bookkeeping Experts Complete Controller is the Nation's Leader in virtual accounting, providing services to businesses and households alike. Utilizing Complete Controller's technology, clients gain access to a cloud-hosted desktop where their entire team and tax accountant may access the QuickBooks file and critical financial documents in an efficient and secure environment. Complete Controller's team of  US based accounting professionals are certified QuickBooks™️ ProAdvisor's providing bookkeeping and controller services including training, full or partial-service bookkeeping, cash-flow management, budgeting and forecasting, vendor and receivables management, process and controls advisement, and customized reporting. Offering flat rate pricing, Complete Controller is the most cost effective expert accounting solution for business, family office, trusts, and households of any size or complexity.