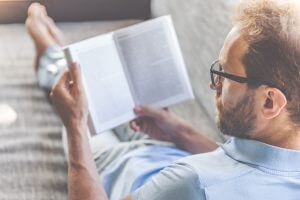 Every entrepreneur needs an active reading list. After all, books are one of the most valuable knowledge resources. Even the best podcasts and YouTube videos cannot replace the in-depth lessons found in a good book. The challenge, however, is sifting through and finding the right material. Find something that will not only resonate with you and inspire you to aim higher but will also guide you through that process as well.
From self-development to best business practices, listed below are 34 must-reads for entrepreneurs in 2019:
1.    The Power of Broke: How Empty Pockets, a Tight Budget, and a Hunger for Success Can Become Your Greatest Competitive Advantage by Daymond John
2.    The Creator's Code: The Six Essential Skills of Extraordinary Entrepreneurs by Amy Wilkinson
3.    Boss Life: Surviving My Own Small Business by Paul Downs
4.    The Purpose Economy: How Your Desire for Impact, Personal Growth and Community Is Changing the World by Aaron Hurst
5.    The Network Entrepreneur: Leveraging Your Social Network for Success by William Brennan
6.    Rocket Fuel: The One Essential Combination That Will Get You More of What You Want from Your Business by Gino Wickman and Mark C. Winters
7.    Small Giants: Companies That Choose to Be Great Instead of Big by Bo Burlingham
8.    To Pixar and Beyond: My Unlikely Journey with Steve Jobs to Make Entertainment History by Lawrence Levy
9.    Chasing Perfection: A Behind-the-Scenes Look at the High-Stakes Game of Creating an NBA Champion by Andy Glockner
10.   Rise of the Robots: Technology and the Threat of a Jobless Future by Martin Ford
11.   The Third Wave: An Entrepreneur's Vision of the Future by Steve Case
12.   The Industries of the Future by Alec Ross
13.   From Silk to Silicon: The Story of Globalization Through Ten Extraordinary Lives by Jeffrey E. Garten
14.   The 100 Best Business Books of All Time: What They Say, Why They Matter, and How They Can Help You by Todd Sattersten
15.   Radical Focus: Achieving Your Most Important Goals with Objectives and Key Results by Christina Wodke
16.   Stragility: Excelling at Strategic Changes by Ellen R. Auster
17.   Sprint: How to Solve Big Problems and Test New Ideas in Just Five Days by Jake Knapp, John Zeratsky, Braden Kowitz
18.   Mapping Experiences: A Guide to Creating Value through Journeys, Blueprints, and Diagrams by James Kalbach
19.   Think Simple: How Smart Leaders Defeat Complexity by Ken Segall
20.   Design for Executives: How the World's Top Designers Build Organizations and Drive Innovation by Mariya Yao
21.   One Plus One Equals Three: A Masterclass in Creative Thinking by Dave Trott
22.   Simplify: How the Best Businesses in the World Succeed by Richard Koch
23.   A More Beautiful Question: The Power of Inquiry to Spark Breakthrough Ideas by Warren Berger
24.   The Storyteller's Secret: From TED Speakers to Business Legends, Why Some Ideas Catch On and Others Don't by Carmine Gallo
25.   Illuminate: Ignite Change through Speeches, Stories, Ceremonies, and Symbols by Nancy Duarte
26.   The Etiquette Edge: Modern Manners for Business Success by Beverly Langford
27.   Originals: How Non-Conformists Move the World by Adam Grant
28.   Things Mentally Strong People Don't Do by Amy Morin
29.   Grit: The Power of Passion and Perseverance by Angela Duckworth
30.   If You're So Smart, Why Aren't You Happy? by Raj Raghunathan
31.   How to Have a Good Day: Harness the Power of Behavioral Science to Transform Your Working Life by Caroline Webb
32.   Deep Work: Rules for Focused Success in a Distracted World by Cal Newport
33.   Hell Week: Seven Days to Be Your Best Self by Erik Bertrand Larssen
34.   Be Bad First: Get Good at Things Fast to Stay Ready for the Future by Erika Andersen


Conclusion
Entrepreneurship is a commitment—not only to your venture or business but also to a unique learning process. Where others seek guidance through big universities and established companies, many entrepreneurs who have a desire to go their own way, learning becomes a self-guided experience.



About Complete Controller® – America's Bookkeeping Experts Complete Controller is the Nation's Leader in virtual accounting, providing services to businesses and households alike. Utilizing Complete Controller's technology, clients gain access to a cloud-hosted desktop where their entire team and tax accountant may access the QuickBooks file and critical financial documents in an efficient and secure environment. Complete Controller's team of  US based accounting professionals are certified QuickBooksTMProAdvisor's providing bookkeeping and controller services including training, full or partial-service bookkeeping, cash-flow management, budgeting and forecasting, vendor and receivables management, process and controls advisement, and customized reporting. Offering flat rate pricing, Complete Controller is the most cost effective expert accounting solution for business, family office, trusts, and households of any size or complexity.