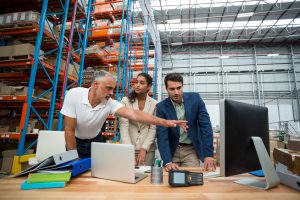 Without a doubt, inventory control is one of the leading challenges faced by tradesmen and retailers across the globe. They have been inventing ways to manage their inventories, devising effective strategies and integrating useful stock inventory management options and innovative software to maximize their profitability with the least amount of inventory investment. As we know, maintaining tight control over supply, storage, and distribution channels as well as ensuring the availability of adequate quantities of stock and supplies without excessive delays is no easy accomplishment. If you expect to succeed in a retail-type business, you have to coordinate and supervise inventory with paramount importance.
What Is an Inventory Management System?
Stock inventory management is the management of stock and inventory. Sounds like a no-brainer, right?  Well….think again. The system through which you track and ensure availability of goods in a retail house by involving different distribution channels from the entire supply chain is called an inventory management system. From warehousing to shipping to movement of stock and the distribution channels between—it covers everything from production to retail. It gives a better command and control to tradesmen which helps to make healthy projections and investment in stock.
The inventory manager is responsible for coordinating and supervising everything related to inventory which means you need effective stock inventory management options and techniques in order to make an optimal use of investment resources at hand. Gone are the days when inventory was handled and managed manually using traditional ways and means of recording, tracking and managing things. Now, advanced inventory management software and solutions are largely being used and integrated by tradesmen to ensure smooth provision of goods and to keep the right balance in stock at the retail establishment.
Stock Inventory Management Options vs Inventory Management Methods


Stock Inventory Management Options
New and innovative ways of managing inventory are necessary for any business to succeed. The era of manual inventory management is history and now business owners are integrating technology into their stock management processes. They are building inventory management systems of their own or subscribing to unique software to track and control their inventory. Undoubtedly, cloud tracking has changed the dynamics of the entire industry—from manufacturing to retail.
This indicates that tradesmen are always looking for efficient and cost-effective ways and means to manage their supply chain and manufacturing processes. Now, you have the choice to choose from so many stock inventory management options for a well-known reason—to create the right balance between inventory gluts and shortages. For effective management of inventory, you have to reevaluate your management strategy and, if you find it lacking somewhere, you need to reconsider your options and choose wisely.
Inventory Management Methods
Companies often have complex manufacturing processes and supply chains which leads them to face shortages and inventory gluts. For optimal utilization of investment resources at hand and keeping the right balance between both, there are predominantly two methods through which tradesmen can control costs and manage their store inventory. These are just-in-time (JIT) and material requirement planning (MRP). With the JIT technique, manufacturers know the right quantity of the items required by the retail establishment. With MRP, stock inventory is usually scheduled based on sales forecasts or history.
Summing Up Both
However, the ultimate goal of stock inventory management options and inventory management methods/techniques is to maximize profitability with the least amount of investment resources. With effective management tools in hand, you can grow and expand your business in a very short span of time. To alleviate stress, you need to set your priorities, define your goals, and implement the right tools and software into your retail business. The smooth flow of activities can only be ensured if tradesmen devise a clear-cut execution plan and strategy for managing the affairs of the store establishment.
What Else Can You Do Besides Integrating Tech-Friendly Stock Inventory Management Options?
Inventory or stock management is a continuous, concentrated and complicated job which means it requires a brilliant amount of dedication, interest, and commitment at all levels of the supply chain. Besides integrating tech-friendly stock inventory management options, what you can do is establish annual stocking policies in order to decide the maximum and minimum level of stocks and supplies to maintain a healthy business life cycle.
Moreover, tradesmen can prepare annual inventory budgets to keep things moving ahead and make projections about costs which includes material costs, COGS, holding costs, logistics costs, and other miscellaneous costs. Looking at the individual perspective, you can check the influx of all stocks, store your stock wisely, create labels and bar codes for each item, keep a track on expiry dates, use multiple vendors for stocking, set threshold stock, manage returns effectively and keep a focused-eye on stocks and inventory. This is a perfect way keep track of items within the store establishment.
Conclusion
Tradesmen have to come up with a sound stock management game plan in order to manage their inventory effectively—without any disruptions.



About Complete Controller® – America's Bookkeeping Experts Complete Controller is the Nation's Leader in virtual accounting, providing services to businesses and households alike. Utilizing Complete Controller's technology, clients gain access to a cloud-hosted desktop where their entire team and tax accountant may access the QuickBooks file and critical financial documents in an efficient and secure environment. Complete Controller's team of  US based accounting professionals are certified QuickBooksTMProAdvisor's providing bookkeeping and controller services including training, full or partial-service bookkeeping, cash-flow management, budgeting and forecasting, vendor and receivables management, process and controls advisement, and customized reporting. Offering flat rate pricing, Complete Controller is the most cost effective expert accounting solution for business, family office, trusts, and households of any size or complexity.