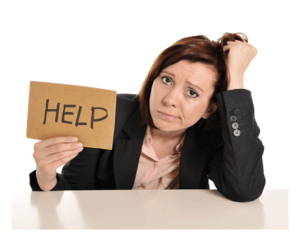 Some of you will relate to this scenario – You have hired an in-house accountant or bookkeeper to run that side of your business. They have developed their own processes for periodic tasks but haven't written any of them down in a document or manual. So, you basically don't know what they do each day, week, month, or year. You can usually get reports on the past month's performance within a few weeks of the end of each month but sometimes it takes much longer. When you ask them why there is a delay, they give you any number of excuses, the worst of which is blaming you. Meanwhile, they haven't created a succinct workflow for your business to follow for accurate and timely accounting, so you aren't sure how to fix the problems. Some of the reports you ask for are never produced. You ask again each month hoping something will change, and every month you still don't get what you need. They might even begin to make you feel like you are bothering them, distracting them from their work. Thank goodness they don't take much sick leave or vacation or you would be completely lost. You are not even sure how to cut a check if they aren't around. If this sounds familiar, you are not alone. Small business owners find themselves in this situation more often than you might expect. If any of the above conditions are present, you may be in a hostage situation. These are intimidating and frustrating times and only you, as the business owner, can change it. The easiest way to implement a change is to bring in an outsourced accounting company to work with your in-house person to 'lighten the load'. Use a firm that will be able to host your books and records so the bookkeeping department is transparent and accessible to all – this will move the wizard out from behind the curtain. Then sign-up for a package that take all of the mundane tasks of account reconciliation and reporting out of your accountant's white-knuckle grip – this will create oversight and review so you know that every transaction is being seen by a professional. Finally, assign your in-house accountant the task of memorializing all of the tasks and procedures they perform in a succinct manual so you can decide as a team if those tasks are efficient and necessary and identify any gaps. If your accountant is resistant to this change, they might be hiding something. Or they might know that they are overpaid for what they do and are more worried about their own job security than making good business decisions for you. Either way, resistance is a big red flag. The good news is, with an excellent outsourced accounting team on your side, you will be able to evolve easily no matter what changes you need to make. You will finally be free to run your business – not have your accountant run you! If you know anyone who is suffering from a hostage situation tell them about Complete Controller – America's Bookkeeping Experts.
About Complete Controller® – America's Bookkeeping Experts
Complete Controller is the Nation's Leader in virtual accounting, providing services to businesses and households alike. Utilizing Complete Controller's technology, clients gain access to a cloud-hosted desktop where their entire team and tax accountant may access the QuickBooks file and critical financial documents in an efficient and secure environment. Complete Controller's team of  US based accounting professionals are certified QuickBooks
TM
ProAdvisor's providing bookkeeping and controller services including training, full or partial-service bookkeeping, cash-flow management, budgeting and forecasting, vendor and receivables management, process and controls advisement, and customized reporting. Offering flat rate pricing, Complete Controller is the most cost effective expert accounting solution for business, family office, trusts, and households of any size or complexity.