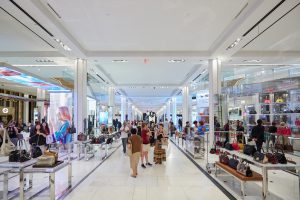 Retail marketing is crafted with promotional activities that raises store and brand awareness. Brick-and-mortar retail stores have to create, support, and execute proper marketing and branding strategies in order to grab a significant market share, which will ensure growth potential. In retail marketing, different media and non-media channels are integrated to bring about more traffic and motivate shoppers to purchase.

Traditional techniques include print advertising, in-store events, promotions, signage, poster, etc. Digital marketing techniques include online advertising, powerful SEO, social media, etc. The overall shopping experience in the store is what matters in the retail industry. When retail marketing is done just right, it will increase sales volume.
Marketing And Growing Your Store—Done Right!
Every business strives to achieve success! Business owners who induct and integrate effective marketing strategies into their store promotions yield significant gains, both financial and strategic. In simplest terms, the growth of the retail store business is directly proportional to effective marketing and branding strategies. The better they are, the higher the results. Obviously, you can only succeed once you create awareness about your brand and products which will eventually attract more customers. For careful creation and execution of marketing strategies, it's better to hire a professional marketing agency as they know the market and evolving business patterns more than you.
Over decades, different retail marketing experts have presented different theories and ideas to grow retail stores. However, few have given a proper logical reasoning along with good explanations.
8 Expert-Level Tips for Marketing and Growing your Store


Give People a Reason to Visit Your Store
People must have a reason to go to your store. This is probably the easiest, yet hardest to implement strategy where so much interest has been generated and visitor influx created. By integrating different levels of image building and awareness programs, people get to know about your brand and what it has to offer to the targeted audience. According to different studies, people find their own reason to visit any retail store. Sometimes, visitor influx is created by strong print and digital marketing campaigns, sometimes through a mere WOM (Word of Mouth). So, marketing and growing your store go hand in hand and both are responsible for the store's success. By holding exclusive events and implementing contemporary time-tested sales promotions techniques, you will surely notice a significant growth in your business.
Focus On Displaying and Presenting Products in Their Right Strategic Order
You must take complete ownership of your brand and its products, accompanied by unique marketing campaigns. Displaying and selling exclusive products to your targeted audience generates an exclusive appeal and a positive vibe which means it will help you focus on what and how you display and sell things. Plus, products come and go, but it is the unique selling-point that remains.
Enhance the Customer Experience
Marketing and growing your store experience comes with a cost and that cost is generally evaluated in terms of time, resources, efforts and energy. Every retail store tries their best to give their customers an exceptional and memorable shopping experience. Only a good shopping experience will encourage customers, especially the first-timers, to revisit a store. There are a lot of ways in which it can be improvised such as a comfortable atmosphere, right placement of products, organized and well-maintained store, enticing visuals and much more.
Never Stop Researching
The more you read, the more you gain! In order to make a difference and maintain a competitive business advantage, you need to develop newer and more advanced marketing strategies. Marketing and growing your store are interdependent on each other which signifies that better marketing plans will eventually help grow your store and, hence, your business.
Be Locally Relevant
This is probably the brightest tip ever shared with the general public. Local relevance bears an immense significance in the retail industry. As a store, unless you are a huge retail chain, you must operate within the local community, developing unique and effective marketing strategies that help you succeed in the retail sector.
Expand Your Business Operations
A big idea or approach will always lead you to expand your business operations. You don't need to play the small business card, you need to think big to go big and you can only do that once you have the right plan in mind. Marketing and growing your store chain will surely help you open more and more retail stores.
Tell a Visual Story
You store's interior and exterior walls speak a lot about your store. Therefore, your window displays must be an invitation to onlookers. Retail stores that are in big malls or shopping centers usually do this in order to draw attention. By telling a visual story, you can expect potential customers to visit you store which may trigger impulsive sales.
Use Social Media and Digital Channels
By creating a retail mobile application, you can expect to increase your marketing efforts which will absolutely help you grow your store. According to studies, social media and mobile applications have become absolutely necessary to meet the evolving market trends and growth potentials.
Conclusion
Although expert opinion matters as they have a wide amount of industry knowledge, you need to use your creativity as well and devise certain marketing plans that help you succeed in the retail business. The aforementioned expert-level tips for marketing and growing your business are vital to your business success.




About Complete Controller® – America's Bookkeeping Experts Complete Controller is the Nation's Leader in virtual accounting, providing services to businesses and households alike. Utilizing Complete Controller's technology, clients gain access to a cloud-hosted desktop where their entire team and tax accountant may access the QuickBooks file and critical financial documents in an efficient and secure environment. Complete Controller's team of  US based accounting professionals are certified QuickBooksTMProAdvisor's providing bookkeeping and controller services including training, full or partial-service bookkeeping, cash-flow management, budgeting and forecasting, vendor and receivables management, process and controls advisement, and customized reporting. Offering flat rate pricing, Complete Controller is the most cost effective expert accounting solution for business, family office, trusts, and households of any size or complexity.