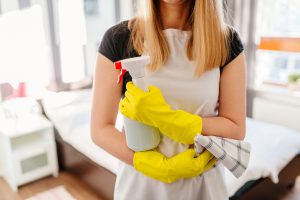 A spring cleaning refers to the ritual cleaning of homes in the spring. In the winter, everything is packed due to the brutal nature of the cold weather. When spring comes around, people open their windows, doors, and clean their homes out completely.
In business, this term 'financial spring cleaning' refers to the actions which are performed to streamline all aspects of the business. In this routine, you are primarily focused on increasing sales, revenue generation, and managing daily operations. You should take the time to refresh your finances.  Notice of pending invoices, old bills, and a revision of business plans should all be examined to take immediate and necessary actions. All of these steps will not only save the business from loss and complications but also benefit you greatly in the long run.  So, how do you open your proverbial windows and doors to rid your business of the clutter?  Let's take a look.
Re-examine payment policies:
Increasing cash flow is the key to grow a business and enjoy a debt-free company. A small business owner should sit with their accountant with bookkeeping records. From transactions and customer history, determine the number of customers whose payments are pending and for how long. Generate an aging table for accounts receivable to know the period for which each payment is pending. Categorize the customer according to the time of outstanding payment, i.e. 30 days, 90 days or 120 days. This aging table is used to collect outstanding payments, to evaluate payment policies, and have a solution for the customer who is habitual in making delayed payments. If you get payments from a customer early, you may be saved from borrowing money or going into more debt.
Assess pricing models:
The other crucial part of a financial spring cleaning strategy is an assessment of your pricing. The pricing of your small business should be comparable to your market competitors. Pricing should be at levels which are profitable and you are not at a loss. But in fact, pricing is a difficult area for many small businesses. Many market conditions affect pricing and it is not easy to manage price, but the best strategy is to keep pricing of products and services comparable to your market competitors.
Review cash balances:
The coming of summer characteristically causes many businesses to postpone their huge purchasing decisions until the fall. This is typically a crucial time for small businesses because they have to pay fixed expenses like utility bills, office rents, etc. whether revenue is falling and you are at a loss. During this slow business period, you must prepare yourself well for the fall, maintain enough cash balances to get through successfully until your normal business is back. Reviewing of sufficient cash balances is a significant step for financial spring cleaning. If you contain adequate funds, it's sensible to go for a working capital loan or a new line of credit.
Discover opportunities for re-negotiations:
Almost all business need to do long-term contracts. These contracts may include leasing a costly piece of equipment long-term instead of purchasing it or making a long-term service contract. All of these agreements are done to save money, sometimes a huge amount of fixed costs are allocated each month to pay for the fees of these contracts. These contracts should be reassessed and opportunities for re-negotiation should be explored so that money can be saved.
Analyze your subscriptions:
Many small business subscribe to different types of software. Some of them are only required for a specific project or a limited time, but due to hectic business routines, you don't remember to cancel that subscription after it is no longer needed. In many cases, these are automatically renewed, as software companies have your credit card numbers. Each month, subscription fees are deducted and you may not even notice. A financial spring cleaning provides you the opportunity to re-evaluate all recurring expenses and cancel such subscriptions which are not in use.
Final thought:
Just like spring cleaning is necessary for cleaning your home and enjoying the refreshing feelings of doing so, a financial spring cleaning is also a good step to refresh the productivity of your small business and improve it's financial health. To keep your business prosperous, a periodic and detailed review of the business and making adjustments accordingly is necessary.  And, good news!  It doesn't have to be spring for you to start!




About Complete Controller® – America's Bookkeeping Experts Complete Controller is the Nation's Leader in virtual accounting, providing services to businesses and households alike. Utilizing Complete Controller's technology, clients gain access to a cloud-hosted desktop where their entire team and tax accountant may access the QuickBooks file and critical financial documents in an efficient and secure environment. Complete Controller's team of  US based accounting professionals are certified QuickBooksTMProAdvisor's providing bookkeeping and controller services including training, full or partial-service bookkeeping, cash-flow management, budgeting and forecasting, vendor and receivables management, process and controls advisement, and customized reporting. Offering flat rate pricing, Complete Controller is the most cost effective expert accounting solution for business, family office, trusts, and households of any size or complexity.