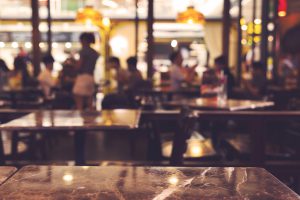 Restaurants have two major costs that make up their total prime cost – labor and food costs. In cases of seasonal adjustments in restaurants, it is essential to control the prime costs in order to survive the sales plunge. During the off-season, sales tend to experience a slump which leads to rising labor costs. This is because, despite lower sales, labor has to be paid (fixed cost incurs regardless of the no. of units sold) and will be incorporated in the bookkeeping process, no matter what. Moreover, prime costs make up approximately 55-65 percent of the restaurant's total cost. This means that seasonal adjustments will require a stringent cost control drill for all restaurant businesses. Five ways to control costs during seasonal adjustments in restaurants have been discussed in the paragraphs that follow.
1. Adjust Labor Budget
As already mentioned in the preceding paragraph, labor costs tend to shoot in off-season owing to lower sales. You can control costs by making adjustments to the labor budget. At the time of setting and allocating budgets for the restaurant, the labor budget for off-seasons must be higher and vice-versa. This is likely to ensure that the prime costs are managed during seasonal adjustments where sales tend to fluctuate at a drastic pace.
2. Multiple Suppliers
Having multiple suppliers is a good idea for a number of reasons. For instance, in case of supply shortages from any of the suppliers, the alternative may always be available for backup support. This is crucial for restaurant businesses as the supply of raw material tends to oscillate during seasonal adjustment for the restaurant industry. Moreover, suppliers may as well transfer the cost of crops onto the restaurant if they are faced with a poor crop harvest. Switching the raw material supply under such circumstances is likely to induce cost control for a restaurant business. Moreover, having multiple suppliers will help save unnecessary hikes in Cost of Goods Sold (COGS) during seasonal adjustments in restaurants.  
3. Menu Adjustments
Another go-to tip to control costs during seasonal changes for a restaurant business is to make adjustments to the menu. Mixing and matching food items to incorporate the most popular and more profitable items into the menu can help lower food costs. Ensure that all items that you put on the menu have high-profit margins. Items that are neither popular nor have higher margins are to be eliminated from the menu as soon as possible. Not just food costs, but labor costs may as well be reduced by making changes to the menu. For instance, a higher number of workers are required to prepare a burger than those required for preparing steak. This means that, during seasonal adjustments in restaurants, menu items can be swapped depending on labor requirements to control the cost of labor as well.
4. Inventory Management
In order to ensure cost-control during seasonal adjustments in restaurants, keeping inventory estimates is necessary. You must have an estimate regarding how much inventory is to be maintained for the off-season as well as the on-season demand. Inventory orders must be placed based on these estimated figures. This type of inventory management is essential if wastage is to be reduced, which will lead to lower food costs as well. As for peak seasons, ample quantities should be available in stock to meet higher than ever demands in restaurants. Therefore, premium prices for raw materials may effectively be avoided.
5. Reduce Wastage
Lastly, it is crucial for restaurant businesses to ensure wastage control as this will eventually control costs (food costs). In an attempt to ensure perfection in food, a lot of wastage takes place within restaurant kitchens. This must be reduced in order to avoid wastage because the wasted food is costly. If wastage is prevalent in a restaurant, it means a higher quantity of raw materials is being ordered. This additional cost may be saved, especially during season adjustments in restaurants, when inventory management estimates are in place. A wastage sheet or a food wastage log must be maintained to cater to this issue.




About Complete Controller® – America's Bookkeeping Experts Complete Controller is the Nation's Leader in virtual accounting, providing services to businesses and households alike. Utilizing Complete Controller's technology, clients gain access to a cloud-hosted desktop where their entire team and tax accountant may access the QuickBooks file and critical financial documents in an efficient and secure environment. Complete Controller's team of  US based accounting professionals are certified QuickBooksTMProAdvisor's providing bookkeeping and controller services including training, full or partial-service bookkeeping, cash-flow management, budgeting and forecasting, vendor and receivables management, process and controls advisement, and customized reporting. Offering flat rate pricing, Complete Controller is the most cost effective expert accounting solution for business, family office, trusts, and households of any size or complexity.