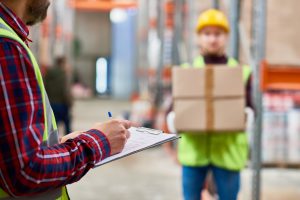 Each organization requires an inventory to carry out the various activities aimed at achieving its objectives as a successful business. Stock inventory is created when items are in standby mode before they are used or sold. A stock of items can be found at any stage of the process, initially as raw material, then process stock and, finally, finished stock.
Types of Stock Inventory Management
Businesses rely on different types of inventory to conduct their operations. Some of the most common types are:
Raw Material Inventory – Materials intended for production. This inventory allows continuous production and its size is determined by the cost, production time, and priorities of the organization.
Work In Process Inventory – Materials that are in the production line waiting between different workstations. This inventory includes products that are allotted to different processing times of workstations.
Finished Goods Inventory – Inventory of finished products intended for sale and awaiting delivery to customers.
Inventory of Supplementary Materials – Materials that do not directly participate in production but are necessary to complete the process. For example: office supplies, packaging materials, and other products included in the indirect production.
Costs Associated with Inventory Management
Costs associated with inventory management are different depending on the production process and type of finished product. Following are costs associated with inventory management for effective bookkeeping records.
Cost of Labor – Includes all costs associated with those responsible for managing inventory. This cost includes salaries and wages paid to warehouse managers, warehouse clerks, and inventory holders.
Cost of IT – Includes the cost of purchasing and maintaining computers and software.
Cost of Management – Includes building procedures, approving and assimilating them into the system. For example: storage procedures, handling procedures, and delivery procedures.
Benefits Derived from Inventory Management
There are several benefits taken from effective inventory management for the success of a business and proper bookkeeping. Savings on inventory maintenance helps in the optimization of costs associated with inventory maintenance.  They also include costs associated with repeat orders on other products.
Meeting supply times assists in proper inventory management. It enables ongoing production and meeting time schedules and delivery times that are determined in advance. Timely delivery will lead to additional orders and new customers for the business. This indicates that proper inventory management is effective in helping the business succeed.
Maximum utilization of production factors is another benefit of stock inventory management.  Proper management of inventory will enable a continuous production process and will prevent downtime, delays, and idle time in the production process.
Inventory Management – 3 Main Methods

LIFO Method – Last In First Out
This inventory management method is also known as the stack method. The LIFO method is used to determine that the last product that enters the inventory will be the first product to be exported. LIFO is an effective method when it comes to products with a long shelf life.
FIFO Method – First In First Out
According to FIFO stock management, the first product that enters is the last product that leaves the manufacturing facility. It takes into account the shelf life of the product and the validity of the warranty received from the supplier against the product.
JIT – Just In Time
This is one of the most common inventory management methods for products with high maintenance costs. According to this method, a company will order products from the manufacturer exactly at the time of purchase. Inventory management according to consumption is the most economical model for inventory management but requires a high level of control and analysis for demand forecasting and delivery time management.
Inventory Management and IT Services
Inventory management software allows a business to track every exit and entry from the inventory of items in the various warehouses of the organization. Inventory management software is a module of a system that includes sales and purchasing modules to enable data integration and greater manageability, control, and analysis for maintaining costs associated with inventory management.
Linking the IT Sector with Warehouse for Effective Management
The warehouse, along with an inventory management software, will prove as an essential link in the organization's inventory mechanism. The warehouse ensures proper maintenance of the various materials entering the facility, enables adequate management of inventory, and provides good service to the various factory departments. Inventory management software should enable quantitative inventory management and serial numbers for stock inventory management.
Warehouse management, when done efficiently and professionally, is one of the most important conditions for successful management of a logistics system along with stock management inventory and bookkeeping. Both play a decisive role in helping a business succeed. Here are common activities that are carried out in a warehouse:
Handling of deliveries from suppliers
Inventory counts and full control of inventory levels
Preparation of inventory and supply to various departments through transportation systems
Maintenance of physical conditions such as temperature, humidity, and pressure
Proximity restrictions for other materials
Regular maintenance
Receiving finished products from production
Receiving orders from customers
Preparing shipments to customers
Inventory Management with Serial Numbers
Inventory management according to serial numbers enables tracking transactions of every individual item and managing responsibility with the supplier and customer. Inventory management software allows a company to have the ability to analyze inventory movements such as display sales of items according to different periods per business needs. The software must provide information on the dead stock (unsold inventory) to alert the business of missing items when an item falls below a specified minimum level to reduce costs associated with inventory management.
A key part of inventory management software should be the ability to manage exchanges and returns of the customer. The inventory management software provider should be able to perform a variety of actions against any return of a customer or return to a supplier. For example, withdrawal of the return certificate for monetary credit, replacement of product, replacement of product X in product Y, and replacement with the withdrawal of liability if the product is under warranty.
How Can Software Help in Stock Inventory Management?
Inventory management assists with business inventory, tracking the entry and exit of items from stock, and noting speed and profitably of each sale. The inventory management module consists of a price list for each customer. The software can be helpful in the calculation of profit per invoice.




About Complete Controller® – America's Bookkeeping Experts Complete Controller is the Nation's Leader in virtual accounting, providing services to businesses and households alike. Utilizing Complete Controller's technology, clients gain access to a cloud-hosted desktop where their entire team and tax accountant may access the QuickBooks file and critical financial documents in an efficient and secure environment. Complete Controller's team of  US based accounting professionals are certified QuickBooksTMProAdvisor's providing bookkeeping and controller services including training, full or partial-service bookkeeping, cash-flow management, budgeting and forecasting, vendor and receivables management, process and controls advisement, and customized reporting. Offering flat rate pricing, Complete Controller is the most cost effective expert accounting solution for business, family office, trusts, and households of any size or complexity.