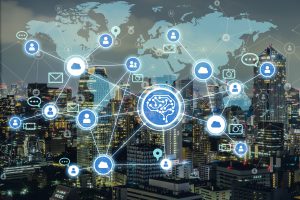 Companies are increasingly shifting towards the online trend. Most of their operations, including bookkeeping, are now being conducted online. The two main factors that have driven companies towards adopting the 'paperless' office trend are environmental concerns and low setup costs that are encountered when going virtual.
However, the biggest obstacle to overcome when running a virtual company is managing remote teams in an efficient manner. Michael Watkins of Harvard Business Review states, "Communication on virtual teams is often less frequent and is always less rich than face-to-face interaction, which provides more contextual cues and information about emotional states — such as engagement or lack thereof. The only way to avoid the pitfalls is to be extremely clear and disciplined about how the team will communicate."

Thanks to advancements in technology, you can now effectively manage and communicate with your teams as well as ensure smooth work operations through the use of several incredibly useful tools that are available online. Here, we have compiled a list of the best tools that you can use to keep all of your team members in sync with each other when running a virtual company.
1. Google Applications for Business
Google Apps enable small business owners to manage their teams in an effective manner and work remotely in collaboration using tools such as Google Docs, Gmail, Calendar, and Chat. When getting the paid subscription for Google Apps, business owners have their email storage upgraded and are able to achieve better management of contacts, improved security for their online data, ability to control multiple domains associated with one account, and mobile access. You can schedule meetings using the Google calendar and have easy access to documents through the inbox sharing feature of Gmail.
2. Highrise
Highrise is an outstanding application that allows you to manage your contacts effectively. It offers smooth tracking of your business proposals and deals as well as allowing you to effectively organize your notes and emails. Moreover, you will receive a text or email when you need to follow up with a particular contact. So, it basically turns into your virtual secretary.
If you are looking for a tool that will help you keep track of your conversations in an efficient manner, Highrise will prove to be an ideal choice. The co-founder of Productive Flourishing and Lift Off Retreat claims, "So much of our business is based upon real interactions with real people and it's hard to know who's talking to who sometimes. Highrise lets us keep track of conversations across the team using the tools we already use, rather than having to go to a dedicated CRM and send e-mails from it."
3. Yammer
Yammer is 'the boss' when it comes to keeping virtual teams connected to social media platforms. Giant corporations like 7-Eleven, Groupon and eBay use Yammer to unite all of their teams residing in different countries and keep them engaged. This, however, does not mean that it won't be suitable for small businesses, as Yammer offers a free general subscription while the advanced features come at a small price of around $5 per month.
Yammer comprises of the following features:
Creation of profiles
Private messaging
Creation of groups
Microblogging
Enhanced Security for Online Data
The Director of Communications at LauraRoeder.com, Sarah Burns, states, "LauraRoeder.com is a completely virtual company with team members working around the globe. With Yammer, we instantly all know what's going on, what we're working on, what's finished and what needs to happen next. It's our own internal status update tool. Best of all, it's very much like one of our favorite social media tools, Twitter, so it's familiar and easy to use."
4. GoToMeeting
If you are managing virtual teams and need to meet them frequently to communicate ideas, have tutorials, or conduct training sessions, GoToMeeting will be the perfect choice for your company. GoToMeeting gives you the privilege of organizing online meetings of up to 15 people all at once. You can share applications with your contacts in real-time using the web conferencing tools it offers and can save those sessions to view later on.
The co-founder of Meylah (a social platform for users to showcase their creativity), Jason Dirks, relies extensively on GoToMeeting to arrange meetings. Jason says, "Our favorite tool that we use to manage our virtual team, other than Dropbox, is GoToMeeting. GoToMeeting allows us to connect and collaborate with our team anytime on the phone or computer."
5. Dropbox
Dropbox is an essential tool for virtual companies to effectively manage and share their documents, photos, videos and audio files with other team members. With the Dropbox application installed on your mobile phone, these files will remain with you wherever you go. Whether you are using your laptop, computer, iPad or mobile phone, you can easily have access to all files – you just need to have an internet connection. Moreover, by getting the paid subscription, your Dropbox storage will be upgraded, allowing you to store a huge volume of files without any restrictions. Tina Su, who manages the 'Think Simple Now' and 'Work Awesome' blogs, states, "I love Dropbox. It's free (for the first few gigs), quick to setup, easy to share, automatically backs-up and mounts like a hard drive. We use it to store and share documents, software codes, and resources like graphics."




About Complete Controller® – America's Bookkeeping Experts Complete Controller is the Nation's Leader in virtual accounting, providing services to businesses and households alike. Utilizing Complete Controller's technology, clients gain access to a cloud-hosted desktop where their entire team and tax accountant may access the QuickBooks file and critical financial documents in an efficient and secure environment. Complete Controller's team of  US based accounting professionals are certified QuickBooksTMProAdvisor's providing bookkeeping and controller services including training, full or partial-service bookkeeping, cash-flow management, budgeting and forecasting, vendor and receivables management, process and controls advisement, and customized reporting. Offering flat rate pricing, Complete Controller is the most cost effective expert accounting solution for business, family office, trusts, and households of any size or complexity.