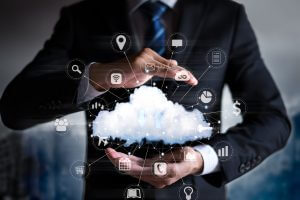 The adoption of cloud computing for small and medium accounting firms is essential for many reasons. With the information highway at our fingertips, knowledge has increased and research, along with science and technology, has made it possible for many businesses to actually do more with their time and resources. The digital era has made connectivity, and other valuable mediums used by businesses, to enhance and develop them at the mental level. With the dawn of the cyber world, businesses from every industry have sought their own share in this new space which has spawned new areas of opportunity for many professionals, i.e. e-marketing, e-commerce, etc.


The Adoption of Cloud Computing
The adoption of cloud computing, not only for small and medium accounting firms but businesses and professionals from every industry, benefits from the next-generation in Information Technology. Cloud computing is the latest innovation that changes the way IT resources are provided. It combines already-existing heterogeneous technologies into one fully compatible ecosystem instead of creating new systems afresh. Cloud computing can be defined as a model for effective, convenient, sustained and on-demand provisioned network access to a shared pool of computing resources that are configurable which require little or minimal management labors or services providers assistance. 
Software as a Service, or SaaS, is the most common and refined form of adoption of cloud computing for small and medium accounting firms where both hardware and software are offered by a cloud service provider and users are permitted to access the software. The capability and energy required to maintain their own software is relieved from the users in the SaaS model, but there are limitations regarding customization of the system. There are other forms of SaaS that are commonly used: PaaS and IaaS. Infrastructure as a Service helps users with providing storage and computing resources hardware infrastructure while users utilize their own OS and software. It minimizes the need to maintain hardware but does not always lead to relieving the users from maintaining their own software. Large corporations and other institutions, such as universities, use IaaS.
Whereas, PaaS is sort of in the middle of SaaS and IaaS. In it, a platform of systems and vital toolkits are provided and users own their own compatible applications, which are deployed at convenience. PaaS is ideal for supporting those businesses who develop their own applications without providing hardware. The main principle and purpose of cloud computing is providing multiple users with centralized computer resources as services. Not being a technology or a product, the adoption of cloud computing is the arrangement of computing resources. In fact, any type of IT infrastructure that differentiates users from providers of services can be cloud computing but the concept of shared resources certainly isn't new. Like grid computing and application service among many others. Cloud computing differentiates from grid computing by heavy virtualization. Computing resources are accessed from the internet instead of specialized interfaces.
Cloud computing has more flexibility in the way that computing resources are used by businesses. It helps set the illusion of limitless resources due to its virtue of connecting widely with a range of computing devices. Cloud service providers are able to give an infinite amount of computing resources due to the fact that all the resources in the cloud computing model are pooled and offered to users at any given time and shifting unused resources to others who need them. This helps business users match their actual demand by configuring their IT services that eradicate the need to forecast yearly resource usage and capacity addition. This is great for businesses who's needs fluctuate a great deal or who's demands increase and decrease irregularly.
The adoption of cloud computing also helps to invest in IT resources and infrastructure with reduced risk by using capital investment as operational expenses. IT infrastructures do not come cheap and, even though it produces significant benefits, it does not guarantee benefits to a firm. However, building upon a cloud computing model would help use it in a meaningful method. Cloud computing has no upfront costs or investment charges so it is eyed as a desirable trait. Cloud-based services are changed on usage which helps a business acquire new IT systems without bearing greater costs for licenses, software, hardware, etc. Cloud computing is more meaningful for small and medium accounting businesses who do not possess the financial capital or expertise needed to implement, configure and manage complicated IT systems.
For businesses, centralizing computing resources and cloud computing provides enhanced and improved efficiency and lesser need for maintenance so users enjoy many reliefs. Organizations and large corporations usually have their own in-house IT support that is usually inefficient. Cloud service providers combine and amalgamate computing resources which help economically unburden businesses. Furthermore, it may even aid in cost savings by eliminating expenditure incurred to manage IT systems.




About Complete Controller® – America's Bookkeeping Experts Complete Controller is the Nation's Leader in virtual accounting, providing services to businesses and households alike. Utilizing Complete Controller's technology, clients gain access to a cloud-hosted desktop where their entire team and tax accountant may access the QuickBooks file and critical financial documents in an efficient and secure environment. Complete Controller's team of  US based accounting professionals are certified QuickBooksTMProAdvisor's providing bookkeeping and controller services including training, full or partial-service bookkeeping, cash-flow management, budgeting and forecasting, vendor and receivables management, process and controls advisement, and customized reporting. Offering flat rate pricing, Complete Controller is the most cost effective expert accounting solution for business, family office, trusts, and households of any size or complexity.